A Palestinian ambulance driver was captured on video bursting into tears as he witnessed civilians being killed by Israeli airstrikes on Gaza. The heartbreaking moment was shared on social media, highlighting the ongoing conflict between Israel and Palestine.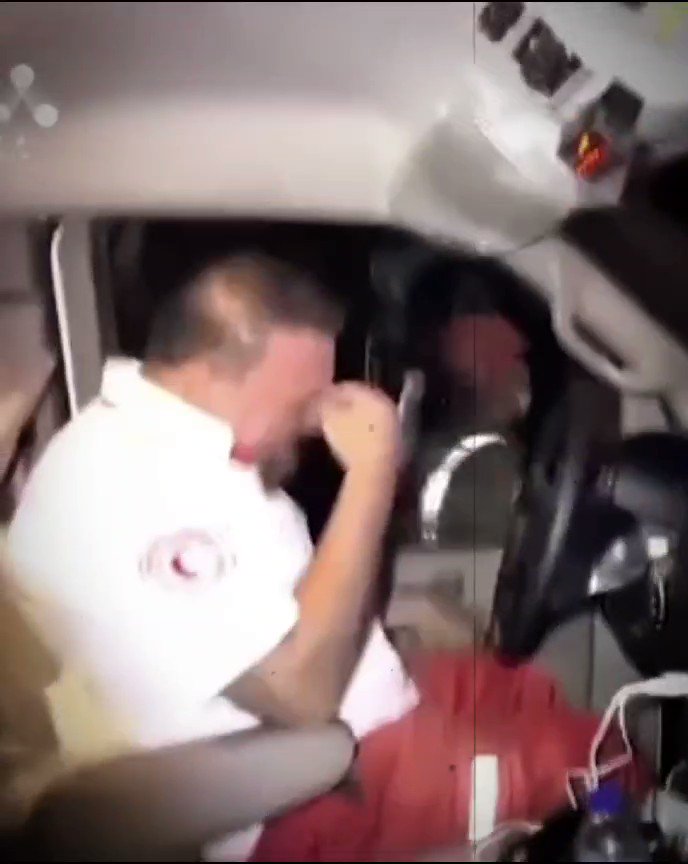 HEART-BREAKING: A Palestinian ambulance driver bursts into tears, seeing civilians being killed by Israeli airstrikes on Gaza. pic.twitter.com/XKrfhQXgqt

— Chris Hutchinson (@ChrisHu34451470) October 12, 2023
In a heart-wrenching scene captured on video, a Palestinian ambulance driver breaks down in tears as he witnesses the devastating loss of civilian lives due to Israeli airstrikes in Gaza. The image, shared on social media by Chris Hutchinson, has brought attention to the ongoing conflict in the region and the toll it takes on innocent lives.
The video, which has gone viral, shows the ambulance driver overwhelmed with emotion as he witnesses the destruction caused by the airstrikes. The driver's tears represent the pain and anguish felt by many Palestinians who have been caught in the crossfire of this long-standing conflict.
The Israeli-Palestinian conflict has been a source of tension and violence for decades. The recent escalation of violence has resulted in an alarming number of casualties, with innocent civilians bearing the brunt of the attacks. The situation has garnered international attention and calls for peace and de-escalation.
The video serves as a stark reminder of the human cost of war and the devastating impact it has on individuals and communities. It highlights the importance of compassion and empathy in times of conflict, as well as the urgent need for a peaceful resolution to the Israeli-Palestinian conflict.
Social media platforms have played a significant role in disseminating information and raising awareness about the situation in Gaza. Videos and images, like the one shared by Hutchinson, have the power to bring attention to the plight of those affected by the conflict and generate support for peace and justice.
While political leaders and international organizations continue to grapple with finding a lasting solution to the Israeli-Palestinian conflict, it is essential to remember the human stories behind the headlines. The tears shed by the Palestinian ambulance driver remind us of the shared humanity that transcends borders and conflicts.
As the world watches and reacts to the ongoing violence, it is crucial to support efforts that promote dialogue, understanding, and empathy. Only through collective action and a commitment to peace can we hope to prevent further tragedies and create a better future for all those affected by this devastating conflict..
Source
@ChrisHu34451470 said HEART-BREAKING: A Palestinian ambulance driver bursts into tears, seeing civilians being killed by Israeli airstrikes on Gaza.