According to officials in Gaza, Israeli airstrikes have resulted in the deaths of 1,417 people, including 447 children. Meanwhile, over 1,300 Israelis have been confirmed dead due to Hamas' attacks. For live updates, visit the provided link.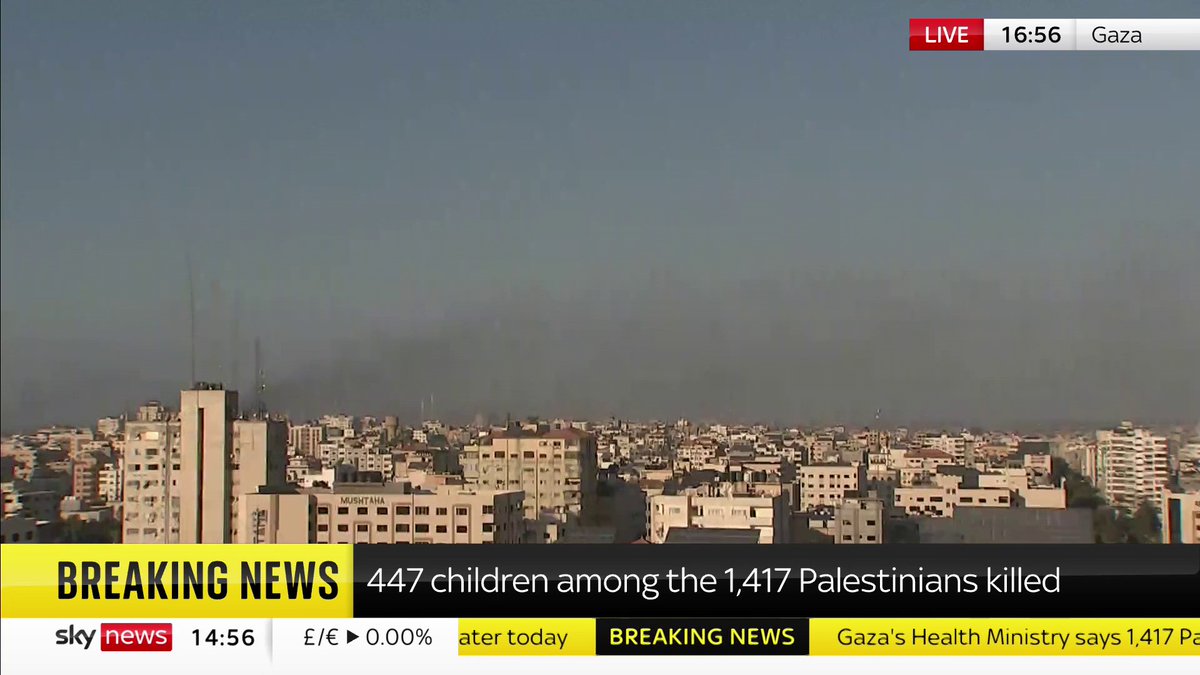 BREAKING: Officials in Gaza have provided a breakdown on those killed by Israeli airstrikes, reporting 1,417 deaths, including 447 children.

More than 1,300 Israelis have been confirmed dead since Hamas's attacks.

Live updates: https://t.co/WP3ywX0KzF

Sky 501 and Virgin 602 pic.twitter.com/1dh3h6qWXC

— Sky News (@SkyNews) October 12, 2023
Title: Gaza Officials Report High Casualties in Israeli Airstrikes
In a recent update from Gaza, officials have revealed a shocking breakdown of casualties resulting from Israeli airstrikes. According to their report, a total of 1,417 individuals have lost their lives, including a devastating count of 447 children. This grim statistic underscores the immense human cost of the conflict.
Meanwhile, the situation in Israel has also been dire, as over 1,300 Israeli casualties have been confirmed since the commencement of Hamas' attacks. These numbers highlight the devastating impact of the ongoing conflict on both sides, emphasizing the urgent need for a peaceful resolution.
The conflict between the Israeli military and Hamas, a Palestinian political and military organization, has caused widespread destruction and loss of life. This latest update from Gaza only serves to deepen international concerns about the escalating violence, particularly due to the high number of civilian deaths, especially children.
The international community has condemned the violence and called for an immediate cessation of hostilities. Diplomatic efforts have been underway to broker a ceasefire, with various world leaders expressing their concerns and urging both parties to exercise restraint.
The toll on innocent lives is a tragic reminder of the urgent need for a lasting solution to the Israeli-Palestinian conflict. The international community must redouble its efforts to halt the violence and create an environment conducive to dialogue and negotiation.
As news of the casualties spreads, it is crucial to remember that behind every number is a human life. Families on both sides of the conflict are mourning their loved ones, and the cycle of violence only perpetuates their suffering.
The live updates provided by Sky News and other media outlets allow the world to stay informed about the situation, but it is imperative that media coverage remains balanced and objective, focusing on the human impact and the search for a peaceful resolution.
In the face of this tragic loss of life, it is the responsibility of global leaders to step up and work towards a lasting peace in the region. Only through dialogue, understanding, and compromise can a future free of violence and bloodshed be achieved..
Source
@SkyNews said BREAKING: Officials in Gaza have provided a breakdown on those killed by Israeli airstrikes, reporting 1,417 deaths, including 447 children. More than 1,300 Israelis have been confirmed dead since Hamas's attacks. Live updates: trib.al/LDMi3Gy Sky 501 and Virgin 602